Wondering where to find the best ice cream in central Wisconsin? From farm stores and working dairies to nostalgic walk-up stands – there are no shortage of spots to find this tasty treat. Check out our top picks for ice cream in central Wisconsin, including Marshfield, Wisconsin Rapids, and the Stevens Point Area.
Marshfield Ice Cream Spots
Weber's Farm Store is a Marshfield institution, which has been offering up dairy goods since 1904. Grab a scoop of ice cream from their drive-up window or head inside to explore more of their offerings including cheese and local butter. After visiting Wildwood Zoo, you can't leave Marshfield without a stop at Hub City Ice Cream Company. Located on Central Avenue, you'll find them scooping up 24 flavors of Chocolate Shoppe ice cream. Pick a flavor and opt for the homemade waffle cone. Want more? Check out Melody Gardens Restaurant and their homemade ice cream (by the cone or the quart).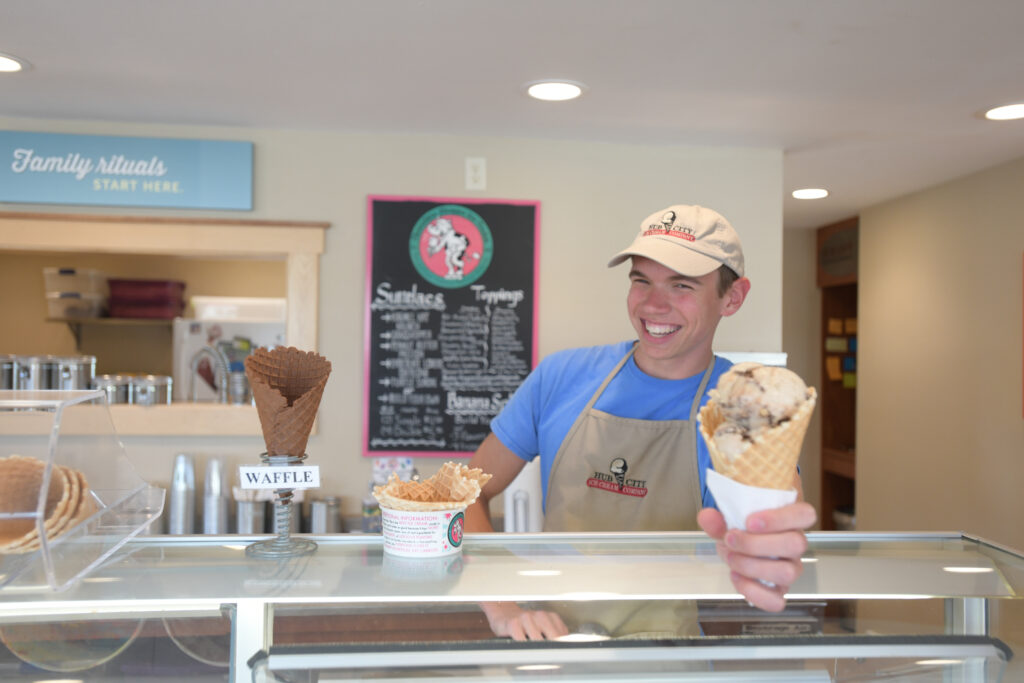 Stevens Point Area Ice Cream Spots
Play up the nostalgia as you order from Belts', a popular stand serving up sweet treats since 1981. Open seasonally from March to October, they often see campers vying to be the first customers of the year. Beware – the large cone is seriously large, but their house-baked goods are too good to skip, including the brownie.
Locally made ice cream, with plenty of unique and one-of-a-kind flavors are on the menu at King Cone. This spot offers up several locations to find it's goods, including award-winning flavors like Lemon Pie, Salty Caramel Truffle, and Butter Pecan Kruncher. Having a hard time deciding between the 48 flavors in the case? Order up a King Sampler, with four flavors to mix and match (and share)! Want more? Check out Feltz Dairy Store, for a scoop of Cow Pie ice cream and a peek into the working robotic dairy farm. Then, check out the Insiders Guide to Ice Cream in the Stevens Point Area.
Wisconsin Rapids Ice Cream Spots
Enjoy a bit of tasty history at Dairy Queen in Wisconsin Rapids.  On the Architecture and History Inventory of the Wisconsin Historical Society, the Wisconsin Rapids Dairy Queen opened in 1954.  The original neon sign still lights the way to the Grand Avenue location for travelers and residents.  So popular, the "seasonal" walk-up stand opens in February, and there is often a line.
Want to stay in your P.J.'s?  Drive through and pick up some Mint Explosion, or the frozen custard flavor of the day at Wisconsin based Culver's on 8th Street.  Prefer Ice Cream served with a scoop and over 40 flavors?  Check out the King Cone on Baker Street.  For more sweet treat options visit Coffee Shops & Sweet Treats.
Want more?
Find more resources, including free guides and maps, to help plan your summer fun in central Wisconsin here.