Looking for things to do this fall? Discover the top 9 things to do for this fall in Central Wisconsin. Tour the Cranberry Highway. Stroll Wildwood Park & Zoo. Explore the Green Circle Trail. Read on to learn more about the top spots to find fall fun in Central Wisconsin!  
#1 – Take a self-guided tour on the Cranberry Highway
Take a self-guided tour on the Cranberry Highway.  Enjoy the blazing colors of fall in central Wisconsin with a sea of red berries while driving along century-old marshes.  Be sure to stop by Rubi Reds to explore the many ways cranberries are beneficial to your health.  Pick some up to take home (and maybe some treats for more fall color routes, listed below, too!)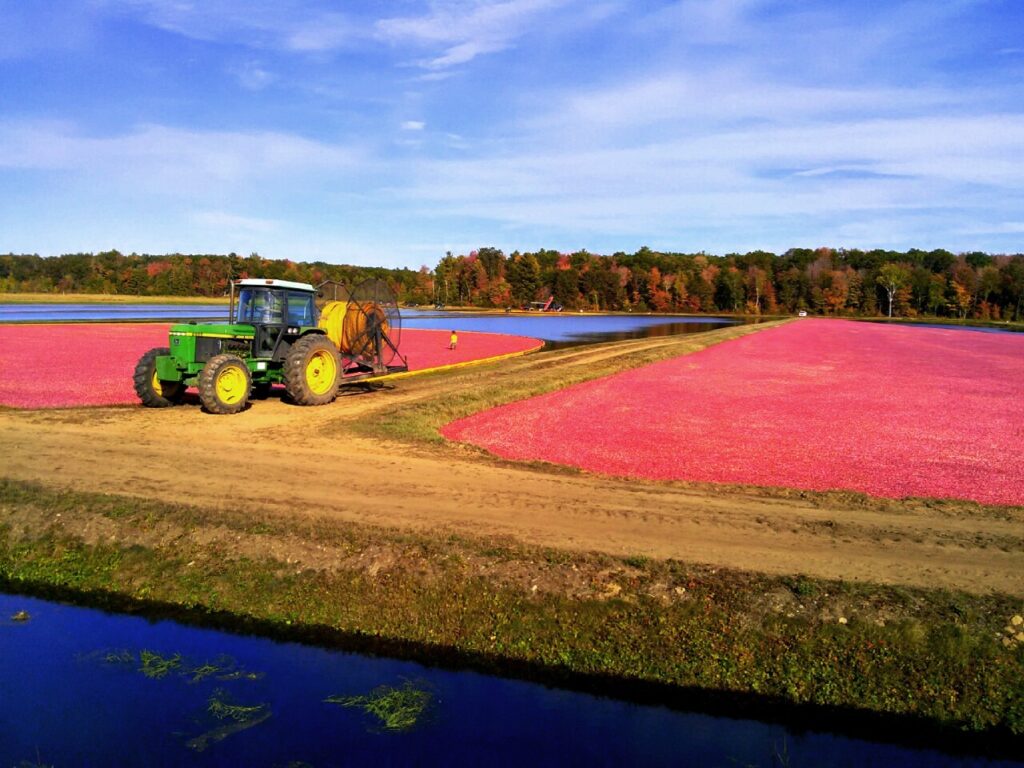 #2 – Stroll around Wildwood Park & Zoo
It's fun, it's FREE, and there's so much to see! Fall is the perfect time to stroll through this popular central Wisconsin zoo. To start, head to the Kodiak bear exhibit and watch rare, twin bears Munsey and Boda play and wrestle the day away. Then, check out cougars Star and Thunder in their newly expanded home near the Welcome Center. If you decide to take the zoo's large animal driving tour, you'll see North American animals like wolves, bison, mountain goats, and more. Kids will love the nearby playground and the whole family can enjoy nearby benches and shelters to relax and enjoy themselves.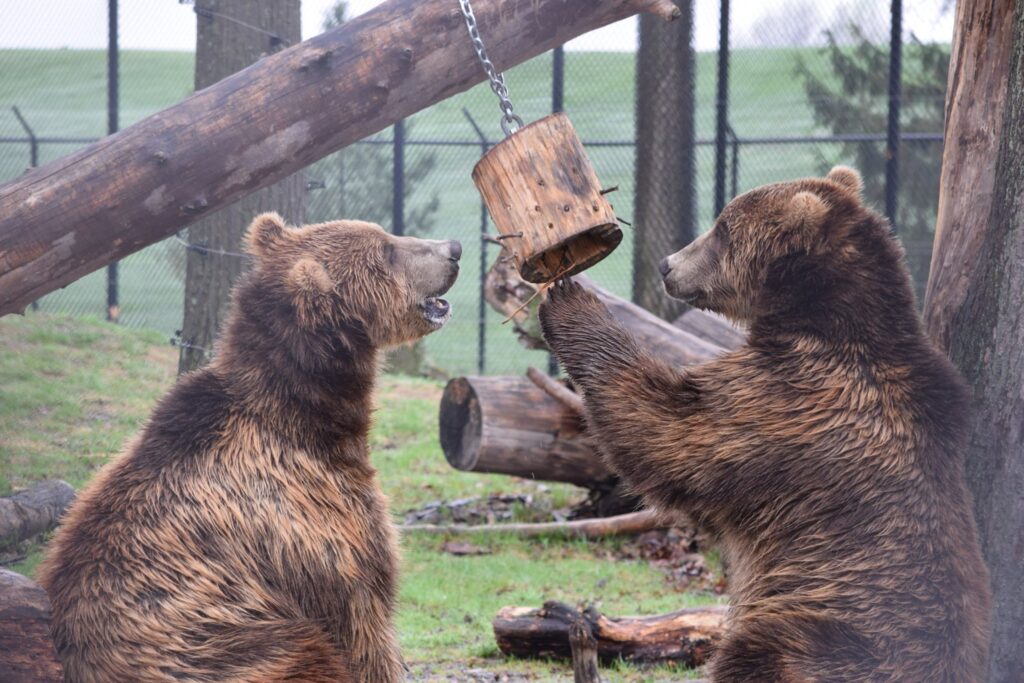 Kodiak bears Munsey & Boda at Wildwood Zoo 
#3 – Explore the Green Circle Trail
Get a close-up of fall color in Central Wisconsin by exploring the popular 27-mile Green Circle Trail. Bringing the kids? Check out our Kid's Guide to the Green Circle Trail to help plan your visit. Then, explore more of the popular fall color routes by car in the region to find your favorite central Wisconsin view.
Green Circle Trail in the Stevens Point Area | @wildwitchywellness
#4 – Experience living history at Historic Point Basse 
Go back in history and experience fall at the only living history site along the Wisconsin River. Explore Harvest Fair, a Campfire Cooking Class, or the Spirit Walk at Historic Point Basse. At this unique spot in Central Wisconsin, you'll learn how the timber, papermaking, and cranberry industries helped shape the region. For more, check out the display of local Disney artist Grim Natwick at the South Wood County Historical Museum. Along with Snow White, you may recognize his Mr. Magoo and Betty Boop. Engage at the Alexander House center for art and history, or relish the serenity of the Rudolph Grotto.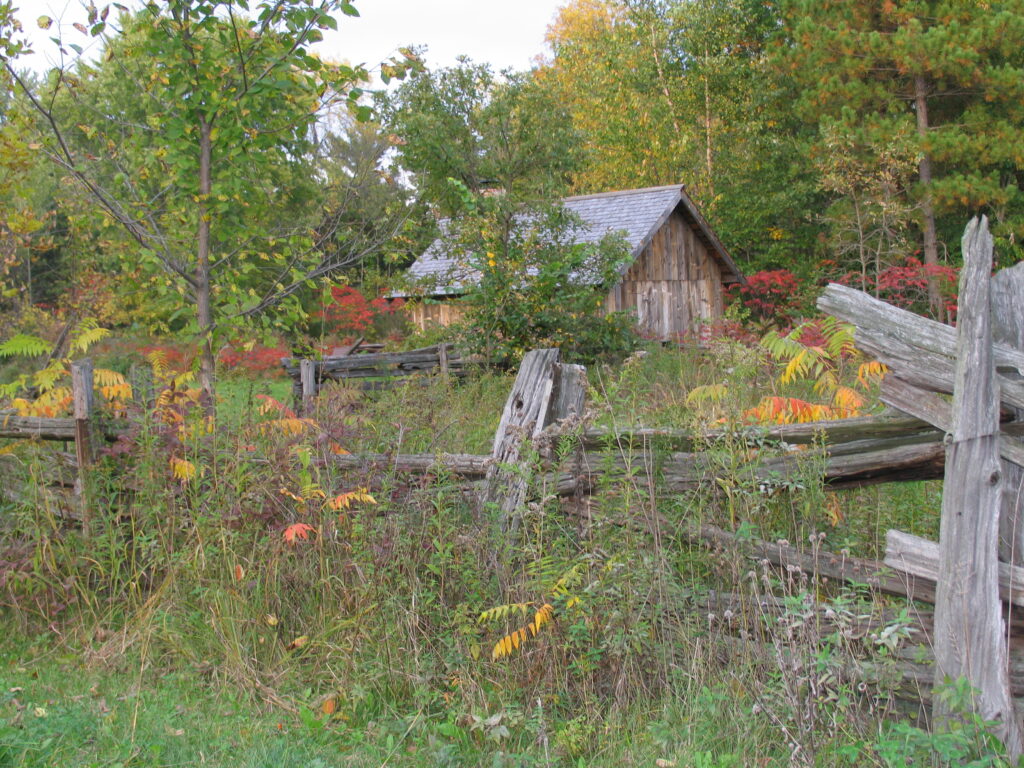 #5 – Tour whimsical Jurustic Park
No visit to Marshfield is complete without a tour of Jurustic Park – this outdoor sculpture park looks even more beautiful surrounded by the changing fall leaves in central Wisconsin. Here you'll discover a fantasy world of creatures roaring to life, crafted from rusted metal. Be prepared to be amazed, and if Clyde Wynia (artist, creator, and all-around entertaining guy) is around, be prepared to laugh—his stories and one-liners make kids of all ages smile. Stop by Clyde's wife Nancy's studio/shop, the Hobbit House, exhibiting her hand-blown hot glass, fiber, and life-size soft sculpture works.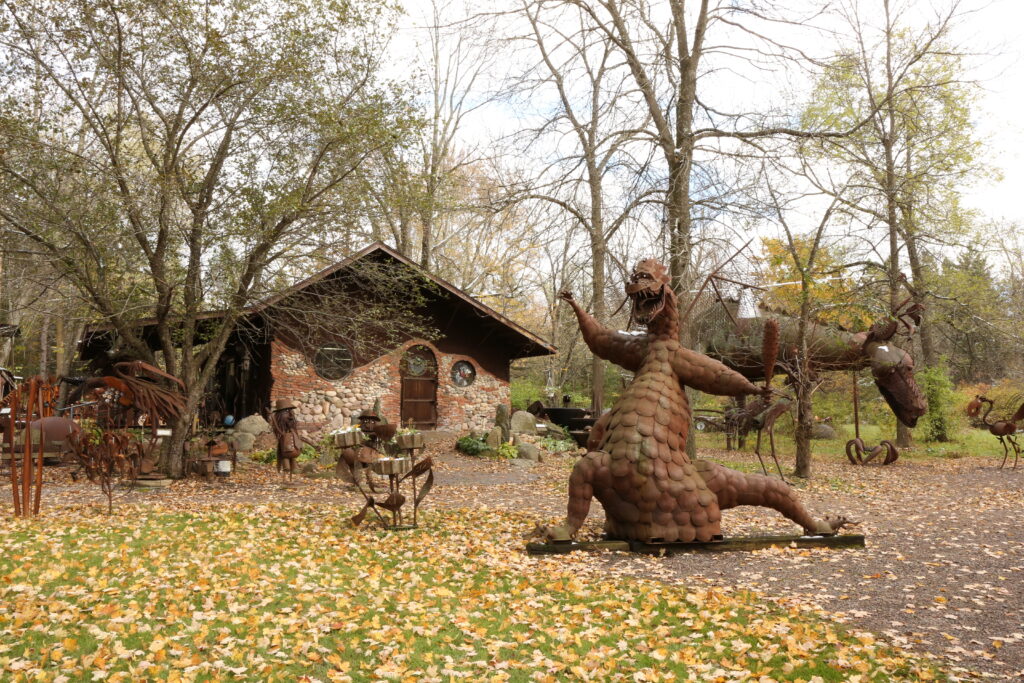 Metal sculptures at Jurustic Park & The Hobbit House 
#6 – Seek out Art that goes BIG
Fall colors in Central Wisconsin aren't the only beautiful things on display. Venture out for public art in plain view and visit the massive 150 feet wide by 50 feet high mosaic mural titled 'E Pluribus Unum'. The piece, featuring more than 280,000 individual pieces is an icon on the University of Wisconsin Stevens Point campus. Find more cool art installations and fun things to do, from the Stevens Point Sculpture Park to interactive art downtown.  
'E Pluribus Unum' Mural at UW-Stevens Point | @spicyginger1
#7 – Take a hike, from the Wisconsin River to Lake Wazeecha
Take a hike – really! Enjoy the beauty of fall in Central Wisconsin along the Wisconsin River from Port Edwards, through Wisconsin Rapids and up into Biron, nearly 10 miles. Grab lunch at Anchor Bay while overlooking the river before heading back. Looking for more fun things to do, and stay active? Check out a spot that is popular with families and fitness fans – the 4.1-mile trail around Lake Wazeecha in South Wood County Park.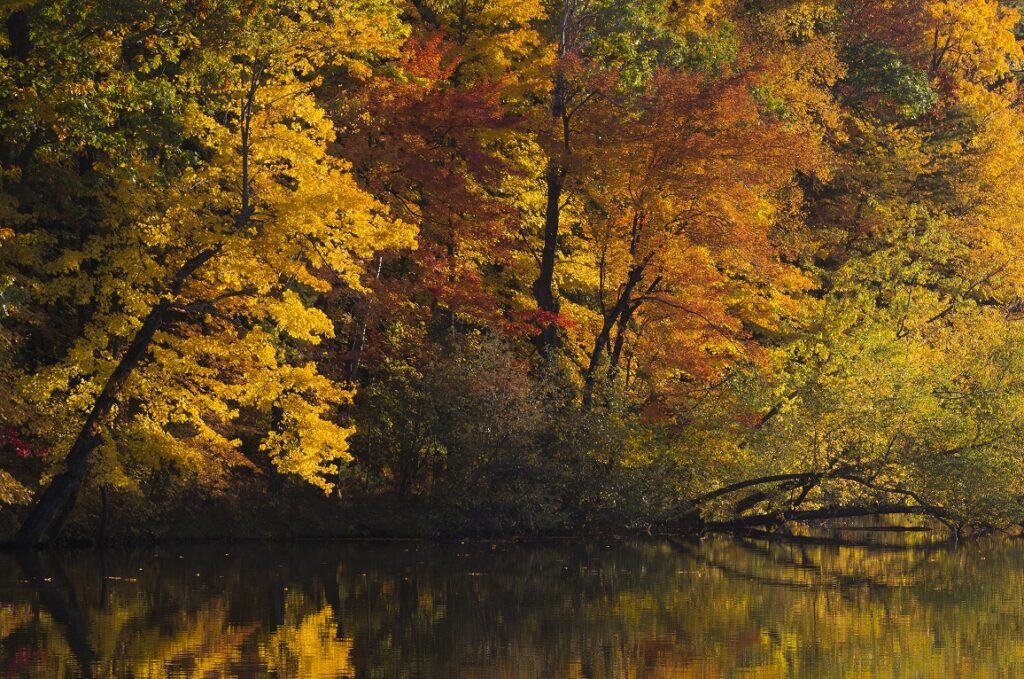 #8 – Bike the Best Trails Around Marshfield
Whether you want to pedal your way around the downtown district (we recommend you take a break for a hot cup of coffee and chill at the Wenzel Family Plaza green space) or have some a more adventurous route in mind, there are lots of great places to bike and lots of trails to explore in the city of Marshfield. Did you know the Marshfield Bikeshare program has bikes available to check out for FREE for daytime use (participants include Hotel Marshfield, Holiday Inn & Baymont Inn & Suites)? Plan your fun things to do, along with your path, with our online city trails map.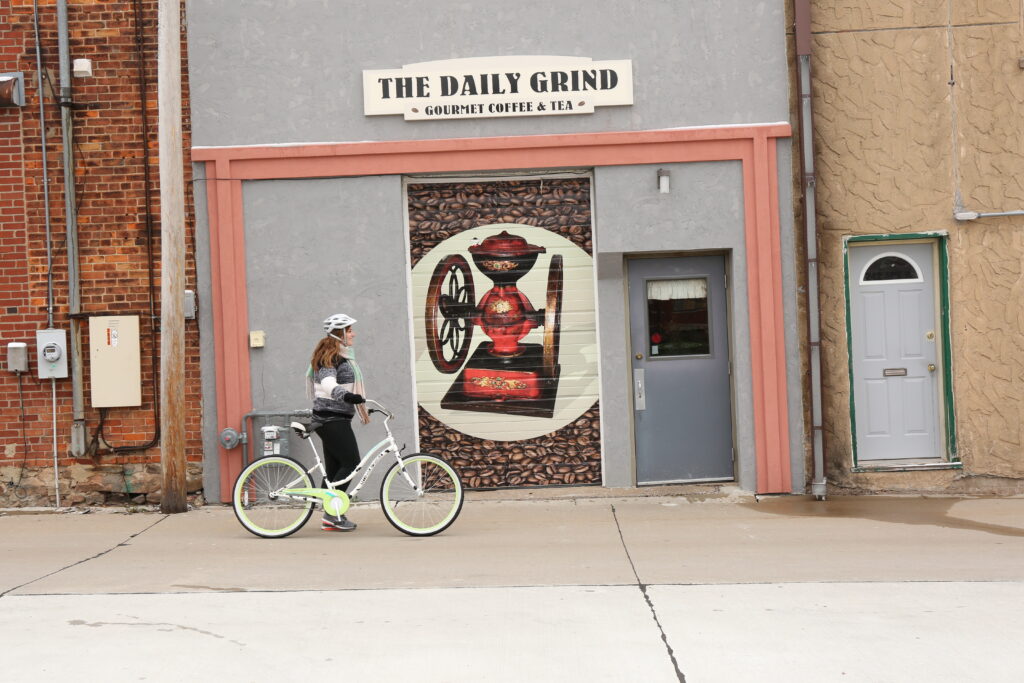 A visitor using a Bikeshare bike near Wenzel Family Plaza & The Daily Grind Coffeehouse.
#9 – Visit a Corn Maze
Venture out into the fields with a challenge, including a stop at Feltz Family Farm & Dairy Store in the Stevens Point Area. The maze, sponsored by TDS Fiber, is open September 12 through October 24 on 10 acres. This popular spot is perfect for fall fun in Central Wisconsin, complete with pumpkins, animal petting zoo, and hay bale maze in addition to the main attraction.  
Corn Maze at Feltz Family Farms & Dairy Store | @laceylizsmith23
Want more?
Find more resources, including free guides and maps, to help plan your fall fun in central Wisconsin here.